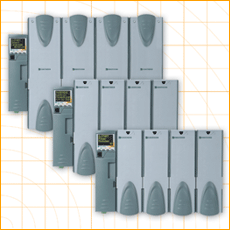 Modular Design
Software Configurable
QuickStart Easy Setup
Advanced Configuration using Graphical Wiring Editor
Predictive Load Management
Flexible Communications
The EPower controller uses the newest technologies and innovations to manage your process and reduce your energy costs. On every level it brings you the flexibility you need to best meet your requirements now and in the future.
Let us look after your power control for you and give you the peace of mind that you have the best for your process – even as it changes.
Flexibility – advanced technologies in harmony with modularity and ease of use to deliver your power control needs
Efficiency – world class power control with innovative features to minimise your energy costs with exceptional process performance
Peace of mind – a power controller that will bring you return on investment and can be adapted in the future if your requirements change – one product for all solutions
Revolutionary modularity and configurability to meet your needs …
Easy ordering, configuration and maintenance through modular design
If your requirements change EPower controller can be easily adapted to meet your needs
Minimum spares holding – many options configurable through a common driver module e.g. firing mode, load, phases, control etc.
Up to four power control modules provide single and multi-phase control
Software configurable options to bring you flexibility
The options that you need …
A single driver module can support up to four power modules – and hence four independent control loops.  Power modules are available in current ratings covering a range from 100A to 630A.  The driver module itself supports options boards to give you additional flexibility in your solution:
Communications – RS485 Modbus RTU, Profibus, DeviceNet®, Modbus TCP network protocols, CCLink*, EtherNet IP* and ProfiNet*
Predictive Load Management (PLM) – A powerful feature to effectively manage your power requirements across multiple machines to save on your energy costs. Read more about PLM.
Flexible I/O – The driver module supports standard I/O and up to three additional I/O boards with analogue inputs, analogue outputs, digital I/O and relay outputs
LTC – The Load Tap changer option for single phase unit applications only, allows for managing multi-tap transformers, preventing both increased harmonics and the reduction of power factor
Energy Counter – Available over communications and for display on user screens, customers can access up to 5 scalable counters, one per individual phases and a global energy usage counter
Ideal for:
Glass furnaces
Melt heat treatment
Food processing
Multi-channel heaters
High temperature furnaces
Induction heating
Plastics – Vacuum furnace
Software Config Options:
Control Type:
Single phase
2 x single phase
3 x single phase
4 x single phase
Two phase
2 x two phase
True three phase
Firing Modes:
Phase angle
Half cycle
Burst firing
Fix modulation period
Logic mode
Load Type:
Standard Resistive
Complex Resistive
Inductive e.g. Transformer
Short Wave Infrared
Load Configuration
Single phase
Star
Delta
Star with neutral
Open Delta
Feedback:
V2
I2
True power
RMS load voltage
RMS load current
Open loop
Large extruders
Documentation téléchargeable